iUFlow is a bladder diary and IPSS app. Add Benign Prostate Enlargement (BPH) tracking ability to your best bladder diary app.
Find Your BPH Symptom Score
How Severe Are My Symptoms?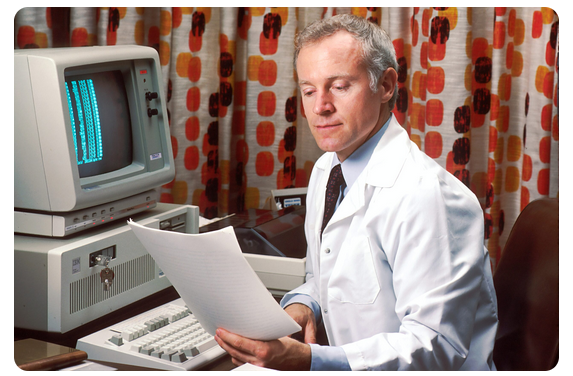 Urology IPSS Prostate Score: BPH Symptoms Score. Calculate International Prostate Symptom Score (IPSS) in patients with prostate enlargement. Especially benign prostatic hyperplasia (BPH). IPSS is based on the answers of seven questions. Mainly focusing on urinary symptoms severity and quality of life.
Easily share the results with your doctor
Enlarged Prostate? Prostate cancer or BPH ? What can help your doctor to decide? Urine flow test and symptoms.
After completing a short questionnaire in the app. The score is added to the bladder diary and charts. Voiding diary and IPSS app make it easy for the healthcare provider to track the symptoms, in the app or portal.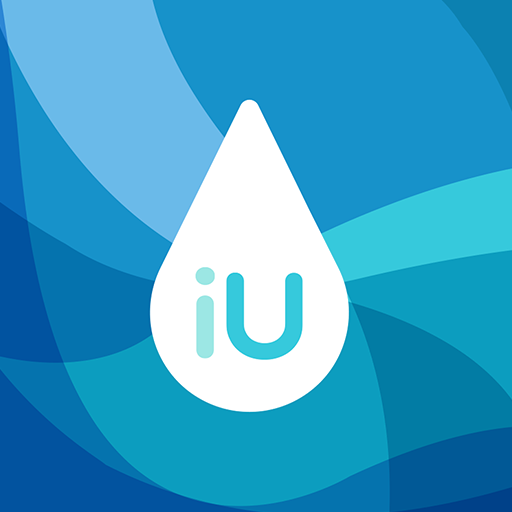 Physicians can use the information in the IPSS questionnaire to help increase quality of life for patients by providing customized treatment. Easily get a full picture of your bladder. Get iUFlow to track and monitor urological symptoms, as weak urinary stream, incomplete emptying, prostate enlargment, volume and other urinary tract symptoms. The recommended practice is to complete IPSS questionnaire once a month. Like that, your doctor can track and compare the results. Using the records as snapshots of your symptoms.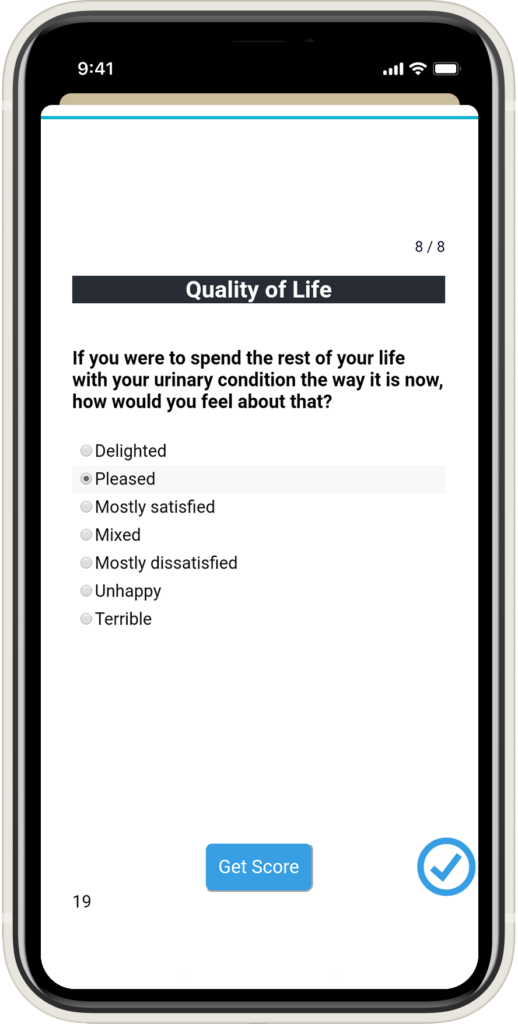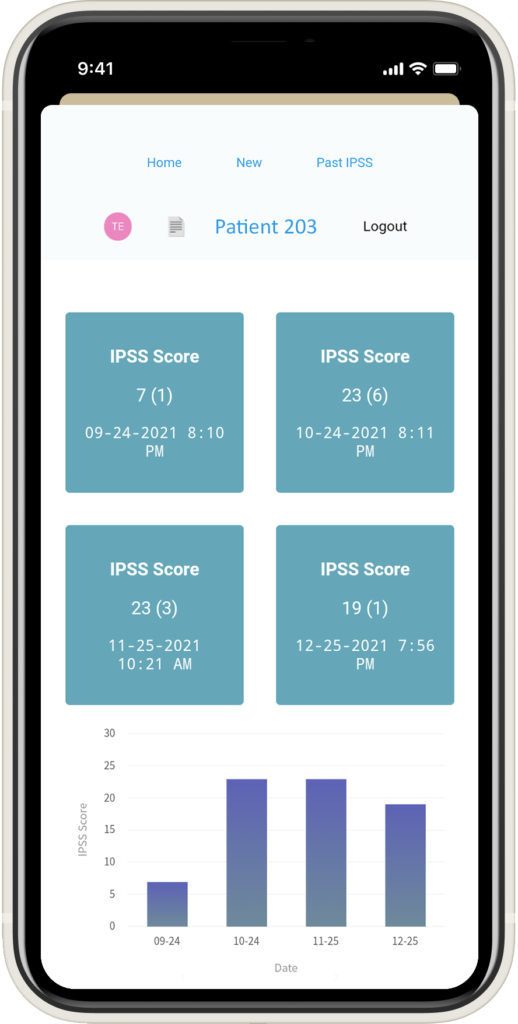 Download iUFlow app to your phone or tablet
iUFlow is available for free in the App Store and Google Play.
Enlarged Prostate?? Prostate Cancer? BPH? IPSS App
What happens in case that the prostate enlarges? Self-Assessment
Do I need to undergo a prostate removal or radiation therapy?
The prostate commonly gets larger after the age of 45 to 50. Because the prostate is very close to the urethra, an enlarged prostate usually presses and affect the normal flow of urine. In other words, it can lead to obstruction.
What else you need to know on BPH
Incomplete Emptying. Over the last month, how often have you had a sensation of not emptying your bladder completely after you finished urinating?
Frequency. During the last month, how often have you had to urinate again less than 2 hours after you finished urinating?
Intermittency. During the last month, how often have you found you stopped and started again several times when you urinated?
Urgency. During the last month, how often have you found it difficult to postpone urination?
Weak Stream. During the last month, how often have you had a weak urinary stream?
Straining. During the last month, how often have you had to push or strain to begin urination?
Sleeping. During the last month, how many times did you most typically get up to urinate from the time you went to bed at night until the time you got up in the morning?
Install iUFlow app on your iPhone or Android for free. no ads. Apple app Store and Play Store.