iUFlow Bladder diary app and Uroflowmeter is HSA Eligible: How It Works?
The iUFlow Wireless and disposable uroflowmeter @home can now be purchased with your Flexible Spending Account (FSA) or Health Savings Account (HSA) card.
In other words, iUFlow now qualifies as an FSA-eligible medical care expense. To clarify, with FSA-eligible products, you can use your pre-tax dollars to pay for qualified out-of-pocket health care expenses, such as Wireless and disposable uroflowmeter.
How To Use Your Pre-Tax FSA and HSA Dollars Towards iUFlow bladder monitoring @home?
 
If you have an FSA or HSA Card
First, double-check your FSA or HSA card balance.
Purchase an iUFlow PRO or iUFlow XL using your FSA or HSA card in place of using your normal credit or debit card.
If you don't have an FSA or HSA card: 
Purchase an iUFlow device using your normal credit or debit card.
Request reimbursement on FSAFeds.com or through the FSAFeds app. You can use the  receipt provided with your shipping confirmation email or email [email protected] for a copy of your receipt.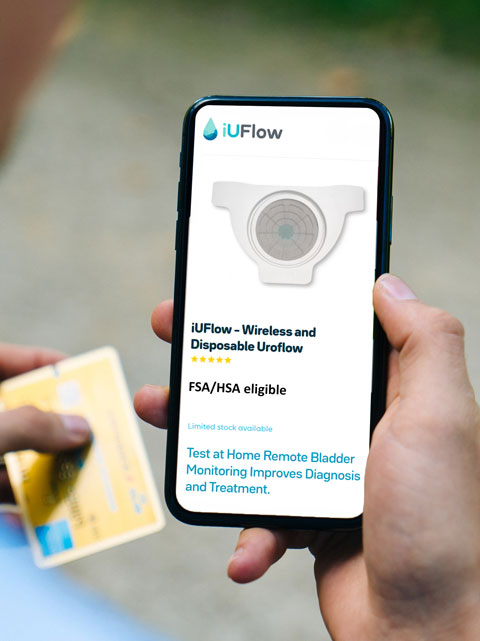 Frequently asked questions
Q: What is the last day to incur expenses for 2021?
You can learn more about key FSA dates and deadlines here.
Q: Can I return an order paid for with my FSA or HSA?
We have a money-back guarantee that starts from the initial purchase date. However, we recommend that you check with your insurance provider first before requesting a refund to your FSA or HSA card. 
We cannot accept the return of items where the product packaging has been opened.
Q: What products are eligible for FSA and HSA reimbursement?
Both the iUFlow PRO and iUFlow XL are FSA or HSA eligible.

I still have some questions!
As always,  remember that we are just an email away and at your service. Please feel free to contact us.