What is Uroflow?
Uroflow vs. Uroflowmeter vs. Uroflowmetry vs. ?
Firstly, yes it is a bit confusing. But, these are all the same. Uroflowmetry is a diagnostic assessment of the urinary tract functionality. Your Urologist or physical therapist suggest performing a uroflow test, in case they suspect that you are suffering while urinating, or have a weak flow rate (stream).
Uroflow, or Uroflowmetry is a test to measure the flow (rate) of micturition. During the test, the uroflow device, a Uroflowmeter, tracks urine flow in mL/sec. It reports Urination volume, meaning, how much urine flows out. It is that simple. Urination Time in seconds, means, How long it takes to urinate.
Interpretation of uroflowmetry results
What is Qmax?
While we measure the total volume of the urination is in mL (milliliter), the flow rate is measured in mL/second, and the Qmax is the value of the highest flow rate measured during the test. In other words, Qmax is the fastest stream measured in mL/s.
Weak flow = Low Qmax
Slow urination speed = Low Qmax
Flat urination chart = Low Qmax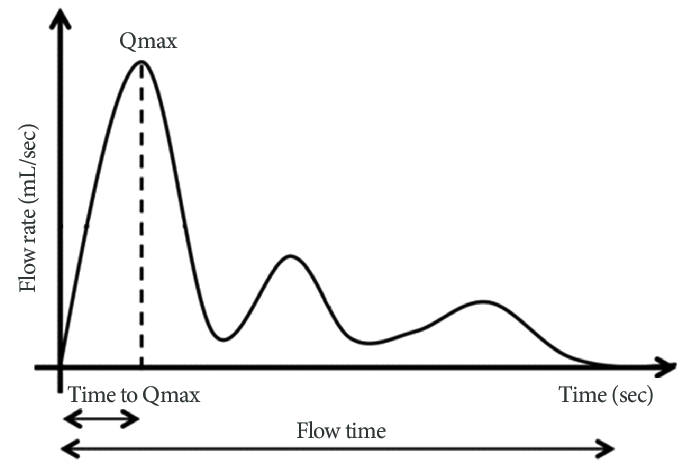 The image above shows a curve with a changing flow to illustrate TQmax, Flow time and Qmax values. If you identify a high Qmax, it is unlikely to be a curve from someone with a blockage or obstruction of the urinary tract and weak flow.
Low Qmax value is commonly a sign of obstruction. It is a common symptom of BPH. In men – Benign prostatic hypertrophy. Enlargement of the prostate gland, or block of the urethra. Also, it can point to another abnormality related to the Lower Urinary Tract.
| | |
| --- | --- |
| Qmax | Interpretation * |
| is higher than 15ml/sec | Normal |
| 10-15ml/sec | Equivocal |
| is lower than 10ml/sec | Obstruction or weak detrusor |
General 'rule of thumb' interpretation. Please advise your doctor.
Can you describe the normal flow rate of urine?
Visually it is a bell-shape-like chart. During normal voiding, the initial stream starts slowly. It accelerates until the bladder is almost empty. The flow then slows until the bladder is empty. In patients with a urinary tract obstruction, this pattern of urine flow is changed, and increases and decreases more slowly.
How exactly is a urine flow test performed?
In a clinic, with the conventional method, a nurse will ask you to urinate into a funnel-shaped container placed on a scale-like electronic device. It is important to know that you can not put any toilet paper in the toilet or device.
After your bladder is full, you'll need to pee normally without manipulating the speed. A conventional electric uroflowmeter hooked up to the toilet record the flow rate and quantity of urination. And of course, never urinate until the machine is on and ready.
Then, when you've finished the machine will send or print your results to your doctor. The uroflow test can help the doctor in identifying the causes of urinary difficulties.
iUFlow Uroflowmeter vs. in clinic Uroflow
As you may noticed, this is normally a bother, iUFlow Uroflowmeter is the solution to get more accurate data about your bladder behavior.
iUFlow is a wireless and disposable uroflowmeter
iUFlow is a uroflowmeter for home use. iUFlow uses built-in sensors to easily and objectively measure volume, flow rates and frequency of a patient's voiding activities during a prescribed interval. An easy urine Uroflowmetry test at home.
Yes, iUFlow was designed to make life easier. iUFlow was built especially for those who suffer from BPH, Overactive bladder, Nocturia, Pelvic floor related issues, or other LUTS (Lower Urinary Tract Symptoms).
How do I get the measurements results of iUFlow? Can it measure Qmax and Volume?
Of course, the iUFlow Uroflowmeter syncs the result in real-time to the iUFlow Bladder Diary app (free and supported on both Android® and Apple® platforms) and iUFlow dashboard. So, your doctor can interpret the result at the same moment that the measurement is completed and bladder data is synced.
Feel free to contact us for more information regarding iUFlow or if you have any question about interpretation of uroflowmetry results.
4.9⭐ "I have been suffering from repeat UTIs and the doctor wanted me to monitor my urination frequency. So far, its been simply and easy to use and the data chart is great."