Should I use pen and paper voiding diary? How to print?
You were told to maintain a bladder diary? well, here it is. This printable Bladder diary form PDF can be downloaded easily from the web. Alternatively, you may get a Bladder Diary Form to fill out from your healthcare provider.
With the conventional and old way to monitor and track your bladder activities:
1. You'll need to always carry the form and a pen wherever you go.
2. To calculate the volumes.
3. To show your doctor the handwritten results.
Here is an example of an OLD AND CONVENTIONAL Voiding diary. Voiding Diary and an FVC – Frequency Volume Chart – are basically the same: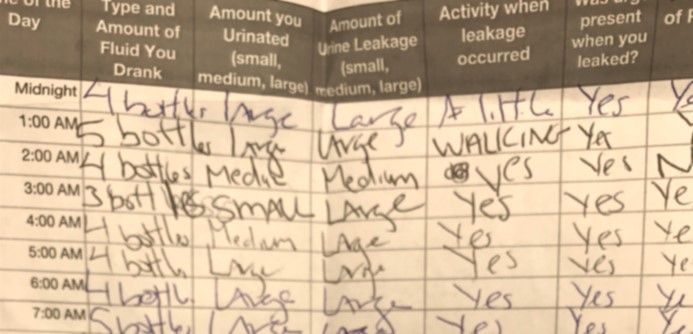 Date
Wee volume
Drinks vol.
Leakage level
Urge level
Description
Date and Time am/pm
The exact amount of pee in mL/oz
The exact amount of intake in mL / oz
Did you experience any accidental leakage?
Rank it 0-4
How strong was the urge to go? Rank it 0-4
An example of a voiding diary form (feel free to use)
The better and easier way to monitor toilet trips is: using a digital bladder diary on your mobile.
However, a modern and better way to track your bladder behavior is by downloading and installing the iUFlow bladder diary app. Most importantly, iUFlow Bladder Diary is offered for free with no ads. Remember: a complete bladder diary can help the doctor in identifying the causes of urinary difficulties.
To sum up, the FREE iUFlow app enables the recording of intake and micturition. Use it to track bladder events. The app records bowel movement – poop – using a Bristol chart (normal, constipation, diarrhea etc) for a perfect digestive tracker and poo journal.
In conclusion, iUFlow Bladder Diary App is a convenient water/urine reminder. You'll be happy for this feature while completing your electronic bladder diary.
More information -> Better diagnostics. Your doctor will appreciate the data and will get you the best treatment that fits YOUR bladder and bowel habits.
Yes, FREE and UNLIMITED Bladder control. We may be a bit biased. But the best bladder diary solution of 2021 is the one we developed. We are glad that thousands of users with > 1000 of x5⭐ reviews agree with us.
Are you looking for a uroflow test at home? Check out the iUFlow PRO as a complimentary device to the iUFlow app.
What our customers say:
Incontinence? UTI?
By installing our free Incontinence tracker, almost every smartphone is able to monitor your wee and bladder behavior with the iUFlow Voiding diary app and iUFlow Uroflowmeter device.
In the voiding diary app, on each urination you can indicate to what degree you had:

• Leakage before getting to the toilet
• Urgency to go to the toilet.
Add a short note (optional).