Description
Wireless and Disposable Uroflow – Sensor only (x2 pack)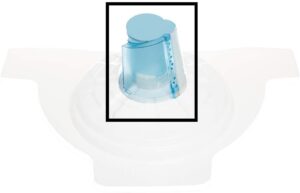 The disposable iUFlow uroflowmeter wirelessly connects to iUFlow mobile app and measures a patient's voiding activities so patient and caregiver do not have to handle urine.
⚪️ Reliably measures urination frequency, flow, and volume
⚫ Wireless measuring to improve patient compliance
⚪️ Comprehensive data and reports for physicians
⚫ Automated Data Collection
⚪️ Digital Unlimited Voiding Diary
iUFlow measures uroflowmetry parameters in a single urination event by user
Measuring range: 50 to 750 ml (Total Flow Volume)
Measuring range: 5 to 50 ml/s
Not suitable for highly abstracted patients or incontinence patients.
A minimum flow rate of 5ml/second is required.
For each urination event, the user can access a graph showing the flowrate (ml/s) as a function of time (seconds) as well as the following parameters:
⏲ Total flow duration (i.e. Voiding time) (seconds)
🗠 Average flowrate (ml/s)
🗠 Highest instantaneous flowrate (i.e. Qmax) (ml/s)
⏲ Time to the highest instantaneous flowrate (i.e. TQmax) (seconds)
Package contains:
1 Bowl
1 Sensor container
1 rinse container
1 User Manual
Operating conditions:
Temperature range: 12C – 30C
Altitude: 0 – 2000 m
Shelf life: 2 years from the date of manufacture
Battery life: 4 weeks from first use
Product life: 4 weeks from first use or 60 urination sessions
Buy now